New Products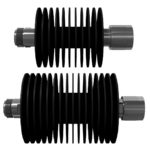 Two 6GHz fixed attenuators models have been added to the JFW website.  Model 50FHC-xxx-25-6 is rated at 25 Watts.  Model 50FHXC-xxx-50-6 is rated at 50 Watts.  Both models operate at DC-6GHz.  The attenuation value can be selected from 1dB to 40dB in 1dB increments.  The RF connectors available are 4.1/9.5, 4.3/10, 7/16, N, SMA or TNC.
More Information
Our new 50T-596 termination is 50 Ohms with a 2.4 mm male connector.  It covers the frequency range DC-50 GHz and has an input power rating of 0.5 Watts.   Visit the new 50 GHz termination product page to view the data sheet and outline drawing.
More Information
These two new series of Ethernet-controlled RF attenuator systems were specifically developed for testing mm-wave and 5G radios in a laboratory environment. An ultra-wide bandwidth of 100 MHz to 40 GHz and attenuation from 0-62dB in 1-dB steps makes both of these systems ideal for receiver sensitivity testing and network emulation of fixed 5G and mobile 5G wireless network components. An easy to use Ethernet/RS-232 interface with front-panel manual control and standard 2.9 MM RF connectors make integration simple as well.
More Information