19 Inch Rack Attenuator Assemblies with Manual Lever Controls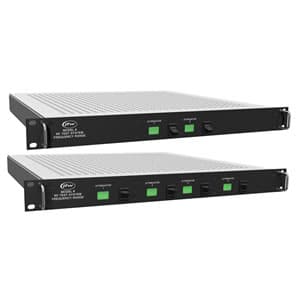 The below table lists 19 inch rack mount programmable attenuators assembly models that are manually controlled with lever switches or remotely controlled using Ethernet/RS-232. The lever switches are momentary so that you can "tap to step" or "hold to jog" to change the dB setting. The speed of the "hold to jog" feature has ten different speed settings to allow for manual handover testing with different attenuation fading speeds.
Each manual lever switch is paired with a display that lists the current dB setting of the programmable attenuator. The dB setting displayed will be updated if the programmable attenuator is changed either manually or remotely. If you run a test script, you will be able to see the attenuators change states as the script executes.
The models in this table were inspired by customer requests. If you do not find a model with the mechanical/electrical features that you require, please email your requests directly to our engineering department (jfwengr@jfwindustries.com). JFW does not charge NREs and will respond to your request with a quick cost estimate.
Click the column headers to sort our online models. For your specific application, please contact JFW for assistance or use our Inquiry Form.
| JFW Model # | Impedance | Configuration | dB Total | dB Step | Frequency Start | Frequency Stop | Control |
| --- | --- | --- | --- | --- | --- | --- | --- |
| 50PA-839 | 50 Ohms | 8 Attenuators (Solid-State) | 95 dB | 1 dB | 200 MHz | 6 GHz | Levers Ethernet RS-232 |
| 50PA-929 | 50 Ohms | 1 Attenuator (Solid-State) | 63.5 dB | 0.5 dB | 30 MHz | 3 GHz | Levers Ethernet RS-232 |
| 50PA-976-XX | 50 Ohms | 1-4 Attenuators (Solid-State) | 95 dB | 1 dB | 200 MHz | 6 GHz | Levers Ethernet RS-232 |
| 50PA-998-XX | 50 Ohms | 1-4 Attenuators (Solid-State) | 95 dB | 1 dB | 30 MHz | 3 GHz | Levers Ethernet RS-232 |
Manual Lever Features:
Current dB settings always displayed
Tap the lever up/down to step the attenuation
Hold the lever up/down to jog the attenuation
Jog speed is adjustable
Multiple lever can be used simultaneously
Remote scripts can be visually confirmed

Capabilities & Options
Custom Models
The models listed in the above table showcase some of our standard programmable attenuator assemblies. However, most of JFW's test system business involves custom designed models. JFW does not charge NRE's for custom models. We encourage you to email us your specific requirement (sales@jfwindustries.com). We will respond with a ROM (rough order of magnitude) quote in 1-2 days. Please include a block diagram with your request if the test system involves multiple RF components.
Remote Commands
JFW has standard remote commands for GPIB, Ethernet, and RS-232 controlled models. The command syntax is simple and allows easy control of the programmable attenuator settings. In addition to our standard commands, JFW can also provide customer specific commands upon request.
Test Software
JFW provides a GUI test program with all Ethernet and RS-232 controlled test systems. The test software for programmable attenuator assemblies has all of the remote commands built in for easy testing. In addition to the remote commands, the GUI test program has additional functionality such as keypress, handover, and indefinite handover. Check out our sample test programs to see for yourself.
Options
Attenuators: Electro-mechanical (DC-18GHz) or Solid-State (0.001-6GHz)
Remote Control: Ethernet, RS-232, GPIB, or TTL
Manual Control: Keypad (w/ LCD) or toggle switches
Enclosures: Benchtop or 19″, 23″, 24″ rack enclosures
Supplied Power: AC, Dual redundant AC, or DC powered
RF Connectors: BNC, TNC, SMA, N, etc.
Impedance: 50 Ohm
Showing 1–3 of 4 results