Fixed Attenuator Kits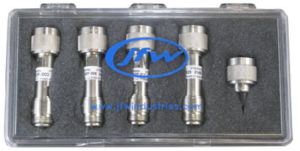 JFW's online fixed attenuator kits are listed in the table below. If you can't find a fixed attenuator kit that meets your requirements, please contact JFW at sales@jfwindustries.com. Just send in a request with a list of your required RF attenuators and JFW will make a new fixed attenuator kit model that meets your specific requirements.
JFW never charges NRE's for new fixed attenuator kit models. We pride ourselves in the ability to offer custom fixed attenuator kit models with the same pricing and delivery as our standard fixed attenuator kit models.
Click the column headers to sort our online models. For your specific application, please contact JFW for assistance.
| JFW Model # | Frequency Start | Frequency Stop | RF Connectors | Models Included |
| --- | --- | --- | --- | --- |
| 50KFA-074 | 0 MHz (DC) | 2200 MHz | BNC, N, SMA | 50F-003, 50F-006, 50F-010, 50F-020, 50T-317 M |
| 50KFA-014 | 0 MHz (DC) | 18 GHz | SMA | 50HF-003, 50HF-006, 50HF-010, 50HF-020 |
| 50KFA-008 | 0 MHz (DC) | 18 GHz | N | 50HF-003, 50HF-006, 50HF-010, 50HF-020 |
| 50KFA-006 | 0 MHz (DC) | 2200 MHz | SMA | 50F-001, 50F-002, 50F-003, 50F-006, 50F-010, 50F-020 |
| 50KFA-005 | 0 MHz (DC) | 2200 MHz | BNC | 50F-001, 50F-002, 50F-003, 50F-006, 50F-010, 50F-020, 50L-001 M/F, 57Z M/F, 75L-001, 75Z M/F |
Showing 1–3 of 5 results