50 Ohm Panel Mounted Manually Variable Attenuators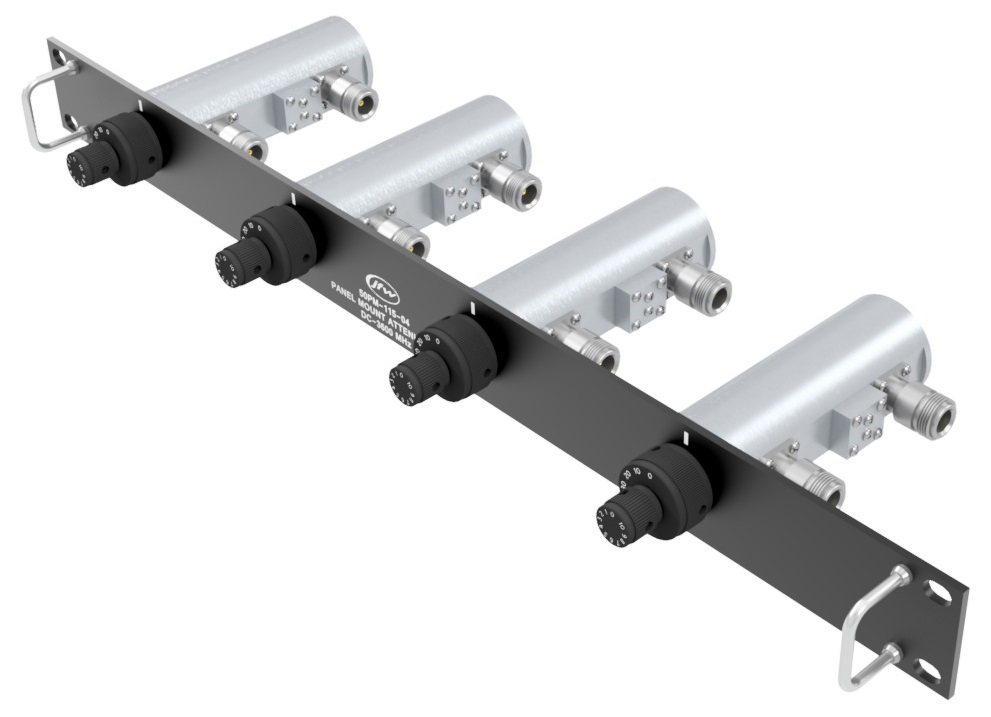 JFW's standard 50 Ohm panel mounted rotary attenuator models are listed in the table below.  These standard models have 19 inch rack mountable panels. The panel height varies depending on the number of attenuators.  We do offer models with empty positions to allow for future expansion of your test setup. JFW can integrate any of our 50 Ohm manually variable attenuators into a panel mounted model.  If you have specific requirements (i.e. panel screening, panel color, RF connector configuration) then please contact our engineering team.
Click the column headers to sort our online models. For model recommendations, please contact JFW or use our Inquiry Form.
| JFW Model # | Impedance | Configuration | Panel Width | dB Total | dB Step | Frequency Start | Frequency Stop | RF Input Power | RF Connectors |
| --- | --- | --- | --- | --- | --- | --- | --- | --- | --- |
| 50PM-114-XX | 50 Ohms | 1-8 Attenuators | 19 inch | 11 dB | 0.1 dB | 0 MHz (DC) | 2000 MHz | 2 Watt | BNC, N, RPT, SMA, TNC, |
| 50PM-115-XX | 50 Ohms | 1-8 Attenuators | 19 inch | 40 dB | 1 dB | 0 MHz (DC) | 3500 MHz | 2 Watt | N, SMA |
| 50PM-116-XX | 50 Ohms | 1-8 Attenuators | 19 inch | 30 dB | 1 dB | 0 MHz (DC) | 2000 MHz | 2 Watt | 4.1/9.5, BNC, N, RPT, SMA, TNC |
| 50PM-117-XX | 50 Ohms | 1-8 Attenuators | 19 inch | 30 dB | 1 dB | 0 MHz (DC) | 3000 MHz | 2 Watt | N, SMA, TNC |
| 50PM-118-XX | 50 Ohms | 1-8 Attenuators | 19 inch | 30 dB | 1 dB | 0 MHz (DC) | 3500 MHz | 2 Watt | N, SMA |
| 50PM-119-XX | 50 Ohms | 1-8 Attenuators | 19 inch | 50 dB | 1 dB | 0 MHz (DC) | 2500 MHz | 2 Watt | BNC, N, SMA, TNC |
| 50PM-120-XX | 50 Ohms | 1-8 Attenuators | 19 inch | 60 dB | 1 dB | 0 MHz (DC) | 2700 MHz | 2 Watt | N, SMA |
| 50PM-121-XX | 50 Ohms | 1-8 Attenuators | 19 inch | 80 dB | 1 dB | 0 MHz (DC) | 2200 MHz | 2 Watt | BNC, N, SMA |
| 50PM-122-XX | 50 Ohms | 1-8 Attenuators | 19 inch | 80 dB | 1 dB | 0 MHz (DC) | 2500 MHz | 2 Watt | BNC, N, SMA, TNC |
| 50PM-123-XX | 50 Ohms | 1-8 Attenuators | 19 inch | 80 dB | 1 dB | 0 MHz (DC) | 3000 MHz | 2 Watt | N, SMA |
| 50PM-124-XX | 50 Ohms | 1-8 Attenuators | 19 inch | 110 dB | 1 dB | 0 MHz (DC) | 1000 MHz | 2 Watt | BNC, Mini-UHF, N, RPT, SMA, TNC |
| 50PM-125-XX | 50 Ohms | 1-8 Attenuators | 19 inch | 110 dB | 1 dB | 0 MHz (DC) | 2000 MHz | 2 Watt | BNC, N, SMA, TNC |
| 50PM-126-XX | 50 Ohms | 1-8 Attenuators | 19 inch | 110 dB | 1 dB | 0 MHz (DC) | 2200 MHz | 2 Watt | BNC, N, SMA, TNC |
Showing 1–3 of 13 results
50PM-114-XX Panel Mounted Attenuator

50 Ohm Panel Mounted Manually Variable Attenuators, Manually Variable Attenuators

JFW Model #: 50PM-114-XX
Description: Manual step attenuators on 19 inch rack mountable panel
Impedance: 50 Ohms
Configuration: 1-8 Attenuators
Panel Width: 19 inch
dB Total: 11 dB
dB Step: 0.1 dB
Frequency Start: 0 MHz (DC)
Frequency Stop: 2000 MHz
RF Input Power: 2 Watt
RF Connectors: BNC, N, RPT, SMA, TNC
Documentation: Data Sheet | Drawing | Drawing

---

50PM-115-XX Panel Mounted Attenuator

50 Ohm Panel Mounted Manually Variable Attenuators, Manually Variable Attenuators

JFW Model #: 50PM-115-XX
Description: Manual step attenuators on 19 inch rack mountable panel
Impedance: 50 Ohms
Configuration: 1-8 Attenuators
Panel Width: 19 inch
dB Total: 40 dB
dB Step: 1 dB
Frequency Start: 0 MHz (DC)
Frequency Stop: 3.5 GHz
RF Input Power: 2 Watt
RF Connectors: N, SMA
Documentation: Data Sheet | Drawing | Drawing

---

50PM-116-XX Panel Mounted Attenuator

50 Ohm Panel Mounted Manually Variable Attenuators, Manually Variable Attenuators

JFW Model #: 50PM-116-XX
Description: Manual step attenuators on 19 inch rack mountable panel
Impedance: 50 Ohms
Configuration: 1-8 Attenuators
Panel Width: 19 inch
dB Total: 30 dB
dB Step: 1 dB
Frequency Start: 0 MHz (DC)
Frequency Stop: 2000 MHz
RF Input Power: 2 Watt
RF Connectors: 4.1/9.5, BNC, N, RPT, SMA, TNC
Documentation: Data Sheet | Drawing | Drawing

---