Benchtop Manually Variable Attenuators (L-Bracket)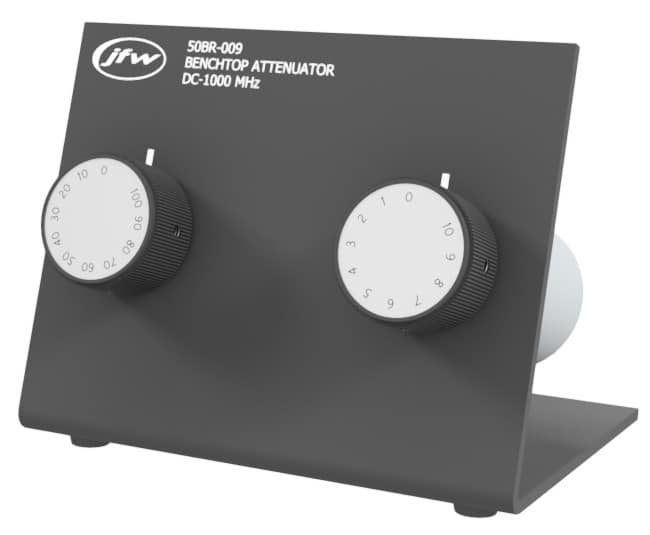 JFW's benchtop rotary attenuator models with L-brackets are listed in the table below.  The RF connectors are accessible on the rear side of the L-bracket and the manual knobs are located on the front of the L-bracket
Step Attenuator Design
The benchtop attenuator assemblies use our standard manual step attenuators.  The step attenuators are connected in series with each other.  The attenuation setting of the assembly is the sum of the attenuation indicated by both knobs.
Click the column headers to sort our online models. For your specific application, please contact JFW for assistance or use our Inquiry Form.
| JFW Model # | Impedance | dB Total | dB Step | Frequency Start | Frequency Stop | RF Input Power | RF Connectors |
| --- | --- | --- | --- | --- | --- | --- | --- |
| 50BR-008 | 50 Ohms | 80 dB | 1 dB | 0 MHz (DC) | 2200 MHz | 2 Watts | BNC, N, SMA |
| 50BR-009 | 50 Ohms | 110 dB | 1 dB | 0 MHz (DC) | 1000 MHz | 2 Watts | BNC, N, SMA |
| 50BR-017 | 50 Ohms | 81 dB | 0.1 dB | 0 MHz (DC) | 1000 MHz | 2 Watts | BNC, N, SMA, TNC |
| 50BR-022 | 50 Ohms | 111 dB | 0.1 dB | 0 MHz (DC) | 1000 MHz | 2 Watts | BNC, N, SMA, TNC |
| 50BR-036 | 50 Ohms | 110 dB | 1 dB | 0 MHz (DC) | 2000 MHz | 2 Watts | BNC, N, SMA, TNC |
| 50BR-105 | 50 Ohms | 69 dB | 1 dB | 0 MHz (DC) | 8000 MHz | 2 Watts | SMA |
| 50BR-024 | 50 Ohms | 110 dB | 1 dB | 0 MHz (DC) | 1000 MHz | 2 Watts | BNC, N, RP-TNC, SMA, TNC |
| 50BR-052 | 50 Ohms | 50 dB | 1 dB | 0 MHz (DC) | 2500 MHz | 2 Watts | BNC, N, SMA, TNC |
| 75BR-024 | 75 Ohms | 70 dB | 1 dB | 0 MHz (DC) | 1000 MHz | 1 Watt | BNC, F, N |
Showing 1–3 of 9 results
50BR-008 Bench Top Rotary Attenuator

$504.84 Benchtop Manually Variable Attenuators (L-Bracket), Buy Online, Manually Variable Attenuators

JFW Model #: 50BR-008
Attenuator Type: Manually variable attenuator
Enclosure Type: Benchtop L-bracket
Impedance: 50 Ohms
dB Total: 80 dB
dB Step: 1 dB
Frequency Start: 0 MHz (DC)
Frequency Stop: 2200 MHz
RF Input Power: 2 Watts
RF Connectors: BNC, N, SMA
Documentation: Data Sheet | Drawing

---

50BR-009 Bench Top Rotary Attenuator

Benchtop Manually Variable Attenuators (L-Bracket), Manually Variable Attenuators

JFW Model #: 50BR-009
Attenuator Type: Manually variable attenuator
Enclosure Type: Benchtop L-bracket
Impedance: 50 Ohms
dB Total: 110 dB
dB Step: 1 dB
Frequency Start: 0 MHz (DC)
Frequency Stop: 1000 MHz
RF Input Power: 2 Watts
RF Connectors: BNC, N, SMA
Documentation: Data Sheet | Drawing

---

50BR-017 Bench Top Rotary Attenuator

Benchtop Manually Variable Attenuators (L-Bracket), Manually Variable Attenuators

JFW Model #: 50BR-017
Attenuator Type: Manually variable attenuator
Enclosure Type: Benchtop L-bracket
Impedance: 50 Ohms
dB Total: 81 dB
dB Step: 0.1 dB
Frequency Start: 0 MHz (DC)
Frequency Stop: 1000 MHz
RF Input Power: 2 Watts
RF Connectors: BNC, N, SMA, TNC
Documentation: Data Sheet | Drawing

---