Rocker Attenuators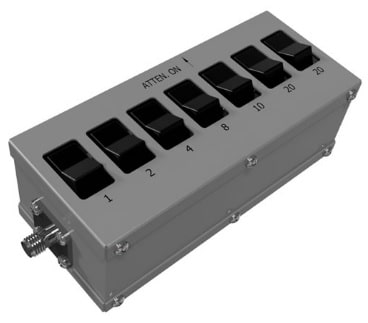 Whether you are using the rocker attenuator on your RF test bench or as part of a RF test system, the JFW rocker attenuator makes adjusting attenuation quick and easy.
Step Attenuator Design
Each rocker switch controls an individual attenuation step.  Activate multiple rocker switches simultaneously to set combinational dB settings.
For your specific RF testings application, please contact JFW for assistance.
| JFW Model # | Impedance | dB Total | dB Step | Frequency Start | Frequency Stop | RF Input Power | RF Connectors |
| --- | --- | --- | --- | --- | --- | --- | --- |
| 50RA-003 | 50 Ohms | 65 dB | 1 dB | 0 MHz (DC) | 500 MHz | 1 Watt | BNC, N, SMA, TNC |
| 50RA-004 | 50 Ohms | 65 dB | 1 dB | 0 MHz (DC) | 1000 MHz | 1 Watt | BNC, N, SMA, TNC |
Showing all 2 results