DC Blocks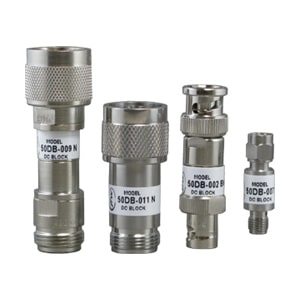 JFW's online DC block models are listed in the table below.  DC blocks have been a staple product in JFW's line of quality RF test accessories for over 30 years.  All of the models listed have coaxial RF connectors.  These models block DC signals and pass RF signals with minimum loss to the RF signals.
DC Block Options
50 Ohm or 75 Ohm impedance
Inner only type or Inner/Outer type
Multiple RF connectors available (BNC, SMA, N, TNC, 7/16, F, reverse polarity and more)
Breakdown Voltages up to 200 Vdc
Frequencies up to 50 GHz
Affordable custom models available upon request
For your specific DC block application, please contact JFW for assistance or use our Inquiry Form.to send your exact specifications.
| JFW Model # | Impedance | Type | Frequency Start | Frequency Stop | Breakdown Voltage | RF Connectors |
| --- | --- | --- | --- | --- | --- | --- |
| 50DB-002 | 50 Ohms | Inner | 0.05 MHz | 1.8 GHz | 100 Volts | BNC, N, SMA, TNC |
| 50DB-007 | 50 Ohms | Inner | 10 MHz | 18 GHz | 200 Volts | SMA |
| 50DB-009 | 50 Ohms | Inner | 10 MHz | 4 GHz | 50 Volts | BNC, N, SMA, TNC |
| 50DB-010 | 50 Ohms | Inner/Outer | 10 MHz | 18 GHz | 200 Volts | SMA |
| 50DB-011 | 50 Ohms | Inner | 10 MHz | 18 GHz | 200 Volts | N |
| 50DB-038 | 50 Ohms | Inner | 10 MHz | 40 GHz | 200 Volts | 2.9 mm |
| 50DB-039 | 50 Ohms | Inner | 0.2 MHz | 2 GHz | 50 Volts | SMA |
| 50DB-060 | 50 Ohms | Inner | 0.001 MHz | 2 GHz | 50 Volts | BNC, N, SMA, TNC |
| 50DB-073 | 50 Ohms | Inner | 0.016 MHz | 40 GHz | 75 Volts | 2.9 mm |
| 50DB-077 | 50 Ohms | Inner/Outer | 10 MHz | 40 GHz | 200 Volts | 2.9 mm |
| 75DB-001 | 75 Ohms | Inner | 1 MHz | 2.5 GHz | 100 Volts | BNC, N, TNC |
| 75DB-013 | 75 Ohms | Inner | 0.1 MHz | 3 GHz | 50 Volts | BNC, F, N |
| 50DB-074 | 50 Ohms | Inner | 0.016 MHz | 50 GHz | 30 Volts | 2.4 mm |
| 50DB-076 | 50 Ohms | Inner | 100 MHz | 50 GHz | 75 Volts | 2.4 mm |
Showing 1–3 of 14 results
50DB-002 DC Block

DC Blocks, Test Accessories

JFW Model #: 50DB-002
Impedance: 50 Ohms
Type: Inner
Frequency Start: 0.05 MHz
Frequency Stop: 1.8 GHz
Breakdown Voltage: 100 Volts
RF Connectors: BNC, N, SMA, TNC
Documentation: Data Sheet | Drawing (BNC) | Drawing (N)

---

50DB-007 DC Block

DC Blocks, Test Accessories

JFW Model #: 50DB-007
Impedance: 50 Ohms
Type: Inner
Frequency Start: 10 MHz
Frequency Stop: 18 GHz
Breakdown Voltage: 200 Volts
RF Connectors: SMA Male/Female, SMA Male/Male
Documentation: Data Sheet | Drawing

---

50DB-009 DC Block

DC Blocks, Test Accessories

JFW Model #: 50DB-009
Impedance: 50 Ohms
Type: Inner
Frequency Start: 10 MHz
Frequency Stop: 4 GHz
Breakdown Voltage: 50 Volts
RF Connectors: BNC, N, SMA, TNC
Documentation: Data Sheet | Drawing (BNC) | Drawing (N)

---