Impedance Matching Pads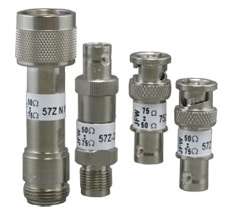 JFW's online Impedance matching pad models are listed in the table below.  An impedance matching pad is designed using internal resistors configured to properly impedance match each side to a difference impedance.  The matching pad models listed below match a 50 Ohm impedance system to a 75 Ohm impedance system.  Resistive matching pads are wide-band devices that operate down to DC.  For 50 Ohm to 75 Ohm impedance matching, the internal resistors do create 5.7dB of attenuation loss.  If your impedance matching application must have minimum loss (i.e. < 1dB), then we recommend our impedance matching transformers instead.
Impedance Matching Pad Options
Any RF connector combination (BNC, SMA, N, TNC, 7/16, F, reverse polarity, with bead-chains and more)
Any impedance matched (50 Ohm, 75 Ohm, 93 Ohm, 110 Ohm, 600 Ohm and many more)
Affordable custom models available upon request
For your specific application, please contact JFW for assistance or use our Inquiry Form.
| JFW Model # | Impedance | Frequency Start | Frequency Stop | Attenuation Loss | 50 Ohm End Connector | 75 Ohm End Connector |
| --- | --- | --- | --- | --- | --- | --- |
| 57Z | 50 Ohm to 75 Ohm | 0 MHz (DC) | 1000 MHz | 5.7dB +/- 0.5 dB | BNC, N, SMA, TNC | BNC, F, N, TNC |
| 57Z-2G | 50 Ohm to 75 Ohm | 0 MHz (DC) | 2000 MHz | 5.7dB +/- 0.5 dB | BNC, N, SMA, TNC | BNC, F, N, TNC |
| 57Z-3G | 50 Ohm to 75 Ohm | 0 MHz (DC) | 3000 MHz | 5.7dB +/- 0.5 dB | BNC, N, SMA, TNC | BNC, F, N, TNC |
Showing all 3 results
57Z Impedance Matching Pad

$22.72 – $46.06 Buy Online, Impedance Matching Pads, Test Accessories

JFW Model #: 57Z
Impedance: 50 Ohm to 75 Ohm
Frequency Start: 0 MHz (DC)
Frequency Stop: 1000 MHz
Attenuation Loss: 5.7 dB +/- 0.5 dB
50 Ohm End Connector: BNC, N, SMA, TNC
75 Ohm End Connector: BNC, F, N, TNC
Documentation: Data Sheet | Drawing (BNC) | Drawing (N)

---

57Z-2G Impedance Matching Pad

Impedance Matching Pads, Test Accessories

JFW Model #: 57Z-2G
Impedance: 50 Ohm to 75 Ohm
Frequency Start: 0 MHz (DC)
Frequency Stop: 2000 MHz
Attenuation Loss: 5.7 dB +/- 0.5 dB
50 Ohm End Connector: BNC, N, SMA, TNC
75 Ohm End Connector: BNC, F, N, TNC
Documentation: Data Sheet | Drawing (BNC) | Drawing (N)

---

57Z-3G Impedance Matching Pad

CATV & Satellite Models, Impedance Matching Pads, Industry Specific Products, Test Accessories

JFW Model #: 57Z-3G
Impedance: 50 Ohm to 75 Ohm
Frequency Start: 0 MHz (DC)
Frequency Stop: 3000 MHz
Attenuation Loss: 5.7 dB +/- 0.5 dB
50 Ohm End Connector: BNC, N, SMA, TNC
75 Ohm End Connector: BNC, F, N, TNC
Documentation: Data Sheet | Drawing (BNC) | Drawing (N) | Drawing (SMA/BNC)

---