Impedance Matching Transformers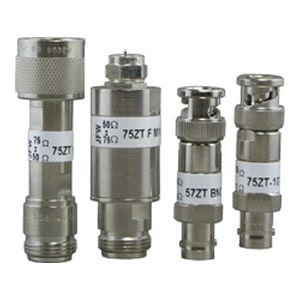 JFW's online impedance matching transformer models are listed in the table below.  An impedance matching transformer is a low loss device used to match two systems that have different impedance.  The models below are used to match a 50 Ohm system to a 75 Ohm system.  These models are bandwidth limited due to the internal reactive transformer designs.
Impedance Matching Transformer Options
Any RF connector combination (BNC, SMA, N, TNC, 7/16, F, reverse polarity, with bead-chains and more)
Any impedance matched (50 Ohm, 75 Ohm, 93 Ohm, 100 Ohm, 125 Ohm and many more)
Affordable custom models available upon request
For your specific application, please contact JFW for assistance or use our Inquiry Form.
| JFW Model # | Impedance | Frequency Start | Frequency Stop | Attenuation Loss | 50 Ohm End Connector | 75 Ohm End Connector |
| --- | --- | --- | --- | --- | --- | --- |
| 57ZT | 50 Ohm to 75 Ohm | 0.5 MHz | 600 MHz | 0.75 dB | BNC, N, SMA, TNC | BNC, F, N, TNC |
| 57ZT-1.2G | 50 Ohm to 75 Ohm | 5 MHz | 1218 MHz | 1.25 dB | BNC, N, SMA | BNC, F, N |
| 57ZT-1G | 50 Ohm to 75 Ohm | 0.5 MHz | 1000 MHz | 0.75 dB | BNC, N, SMA, TNC | BNC, F, N, TNC |
| 57ZTT-AA | 50 Ohm to 75 Ohm | 800 MHz | 2200 MHz | 0.5 dB | BNC, N, SMA, TNC | BNC, F, N, TNC |
| 50ZTT-AJ | 50 Ohm to 75 Ohm | 500 MHz | 3000 MHz | 0.5 dB | BNC, N, SMA | BNC, F, N |
| 50ZTT-AN | 50 Ohm to 75 Ohm | 800 MHz | 2200 MHz | 0.5 dB | BNC, N, SMA, TNC | BNC, F, N, TNC |
| 57ZTT-AP | 50 Ohm to 75 Ohm | 800 MHz | 2200 MHz | 0.5 dB w/ DC Block | BNC, N, SMA, TNC | BNC, F, N, TNC |
Showing 1–3 of 7 results
57ZT Impedance Matching Transformer

$41.66 – $56.82 Buy Online, Impedance Matching Transformers, Test Accessories

JFW Model #: 57ZT
Impedance: 50 Ohm to 75 Ohm
Frequency Start: 0.5 MHz
Frequency Stop: 600 MHz
Attenuation Loss: 0.75 dB
50 Ohm End Connector: BNC, N, SMA, TNC
75 Ohm End Connector: BNC, F, N, TNC
Documentation: Data Sheet | Drawing (BNC)

---

57ZT-1.2G Impedance Matching Transformer

Impedance Matching Transformers, Test Accessories

JFW Model #: 57ZT-1.2G
Impedance: 50 Ohm to 75 Ohm
Frequency Start: 5 MHz
Frequency Stop: 1218 MHz
Attenuation Loss: 1.25 dB
50 Ohm End Connector: BNC, N, SMA
75 Ohm End Connector: BNC, F, N
Documentation: Data Sheet | Drawing

---

57ZT-1G Impedance Matching Transformer

Impedance Matching Transformers, Test Accessories

JFW Model #: 57ZT-1G
Impedance: 50 Ohm to 75 Ohm
Frequency Start: 0.5 MHz
Frequency Stop: 1000 MHz
Attenuation Loss: 0.75 dB
50 Ohm End Connector: BNC, N, SMA, TNC
75 Ohm End Connector: BNC, F, N, TNC
Documentation: Data Sheet | Drawing

---