RF Detectors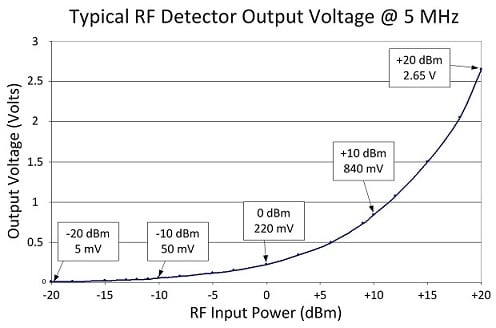 JFW's online RF detector models are listed in the table below.  Our RF detectors use a circuit with a zero-biased Schottky detector diode to convert the RF input signal into a DC output signal.  As the amount of RF input power varies so does the DC output signal level.
RF detectors are typically used for RF detection on a RF path.  Insert a directional coupler into the RF path with the RF detector on the coupled port.  The coupled RF signal will be converted to a DC signal by the RF detector.  The DC signal can then be used by a microprocessor to determine whether RF is present on the RF path based on the amplitude of the DC signal level.
RF Detectors available with positive or negative DC outputs
50 Ohm and 75 Ohm impedance models available
Various connector combinations available (i.e. N/SMA, SMA/BNC)
For your specific application, please contact JFW for assistance or use our Inquiry Form.
| JFW Model # | Impedance | Frequency Start | Frequency Stop | RF Input Power | RF Connectors |
| --- | --- | --- | --- | --- | --- |
| 50D-050 | 50 Ohms | 1 MHz | 1000 MHz | 100 mW | BNC, N, SMA, TNC Male/Female |
| 50D-051 | 50 Ohms | 1 MHz | 2000 MHz | 100 mW | BNC, N, SMA, TNC, 7/16 Male/Female |
| 50D-052 | 50 Ohms | 1 MHz | 3000 MHz | 100 mW | BNC, N, SMA, TNC Male/Female |
| 75D-009 | 75 Ohms | 1 MHz | 1000 MHz | 100 mW | BNC, F, N Male Female |
| 75D-010 | 75 Ohms | 1 MHz | 2200 MHz | 100 mW | BNC, F, N Male/Female |
Showing 1–3 of 5 results
50D-050 RF Detector

RF Detectors, Test Accessories

JFW Model #: 50D-050
Impedance: 50 Ohms
Frequency Start: 1 MHz
Frequency Stop: 1000 MHz
RF Input Power: 100 mW
RF Connectors: BNC, N, SMA, TNC Male/Female
Documentation: Data Sheet | Drawing (N) | Drawing (N/BNC)

---

50D-051 RF Detector

RF Detectors, Test Accessories

JFW Model #: 50D-051
Impedance: 50 Ohms
Frequency Start: 1 MHz
Frequency Stop: 2000 MHz
RF Input Power: 100 mW
RF Connectors: BNC, N, SMA, TNC, 7/16 Male/Female
Documentation: Data Sheet | Drawing (N) | Drawing (N/BNC)

---

50D-052 RF Detector

RF Detectors, Test Accessories

JFW Model #: 50D-052
Impedance: 50 Ohms
Frequency Start: 1 MHz
Frequency Stop: 3000 MHz
RF Input Power: 100 mW
RF Connectors: BNC, N, SMA, TNC Male/Female
Documentation: Data Sheet | Drawing (N) | Drawing (N/BNC)

---