Transceiver Testing
Family of RF test systems designed for transceiver testing. Multiple radios can be connected together in a closed mesh network.  Step attenuators allow you to dynamically fade up/down the RF signal between radios.  The difference between the three types is how each mesh network is created.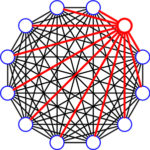 Full Fan-out Transceiver Test Systems
A full fan-out transceiver test system is constructed as a fully meshed matrix. There is a path between every pair of ports. Each path has its own individually controlled programmable attenuator. Each port can be connected to a device that can transmit/receive signals (i.e. radios, handsets). The programmable attenuators allow for a different dB setting for every path through the matrix. The attenuators can have their dB setting faded over a time interval to simulate signal fading between radios. The example diagram shown is a 12 port full fan-out configuration. This 12 port design will have a total of 66 programmable attenuators.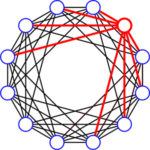 Limited Fan-out Transceiver Test Systems
For a limited fan-out transceiver, a port connects to only X number of its neighboring ports. The number of its neighboring ports can vary depending on the application. The example diagram shows a 12 port LC8 design. Each port is connected to only its 8 closest neighboring ports (4 upper neighboring ports & 4 lower neighboring ports). This design requires only 48 programmable attenuators.
This limited fan-out design is most useful for reducing size/cost of designs with a large number of ports. For example, a full fan-out 48 port design would require 1128 programmable attenuators. A limited fan-out 48 port LC16 requires only 384 programmable attenuators. Cost and size reduction of approximately 66%.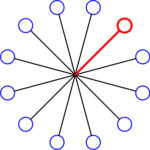 Hub Fan-out Transceiver Test Systems
The hub fan-out transceiver test systems are constructed as a star matrix with a programmable attenuator on each port. The star configuration limits the number of paths in the matrix to be equal to the number of ports. The star design results in a lower cost due to the lower number of programmable attenuators.
The example diagram shown is a 12 port hub fan-out configuration. All ports are connected via a resistive power divider/combiner with a star configuration. There are a total of 12 programmable attenuators.
Functionality Vs. Cost
For a transceiver test system, the major cost driver is the number of internal step attenuators. Each of the three types of transceiver test systems we offer require different numbers of internal step attenuators.  This difference is due to the way the port-to-port connections are created. The full fan-out type has the highest number of internal step attenuators. The hub fan-out type has the lowest number of step attenuators.
Full Fan-out Transceiver Test Systems for Radio Testing (20)

A full fan-out transceiver test system is constructed as a fully meshed matrix. There is a path between every pair of ports. Every path has its own individually controlled programmable attenuator. This construction is ideal for testing radio-to-radio communication because every path can be set to a unique dB setting. Block diagrams for each model are listed in the Documents column of our sortable table. Each path through the matrix has its own individually controlled programmable attenuator. The programmable attenuators allow the transmission from one port to be received at all other ports at different signal levels. This allows the simulation of a network where each device has a different distance (i.e. attenuation setting) from all other devices. The attenuators can be remotely controlled to simulate static or dynamic environments. The full fan-out design offers maximum signal fade testing flexibility. However, not all testing requires a full fan-out design. There are also limited fan-out designs and hub fan-out designs. If you do not find a model that meets your requirements, please contact us. JFW is a customer driven company that does not charge NRE's. We strive to deliver test systems that meet your exact requirements so that you do not waste resources for functionality that you do not need. Click the column headers to sort our online models. For your specific application, please

contact JFW

for assistance or use our

Inquiry Form

. [lt id="93"]

4 Port Full Fan-out Transceiver Test System Example

Below are two diagrams. The left diagram shows how all ports are connected to each other. The right diagram shows the attenuator addressing for each path. A full fan-out 4 port transceiver test system requires a total of 6 programmable attenuators. Each of the programmable attenuators can be individually controlled. The full fan-out configuration allows for each path to be set to its own unique attenuation setting. A radio connected to port #1 can transmit a signal to radios on ports #2, 3, 4 at different signal levels simultaneously. Our latest generation firmware allows for the attenuators to be faded individually or grouped together and faded as a group.

Capabilities and Options

Custom Models

The models listed in the above table showcase some of our standard transceiver test systems. However, most of JFW's test system business involves custom designed models. JFW does not charge NREs for custom models. We encourage you to email us your specific requirement at

sales@jfwindustries.com

. We will respond with a ROM (rough order of magnitude) quote in 1-2 days.

Remote Commands

JFW has standard remote commands for

Ethernet and RS-232

controlled models. The command syntax is simple and allows easy control of the programmable attenuator settings. In addition to our standard commands, JFW can also provide customer specific commands upon request.

Test Software

JFW provides a GUI test program with all Ethernet and RS-232 controlled test systems. The test software for transceiver test systems has all of the remote commands built in for easy testing. In addition to the remote commands, the GUI test program has additional functionality such as keypress, handover, and indefinite handover. Several of our

sample test programs

are available online.

Options Remote Control:

Ethernet, RS-232

Manual Control:

Keypad with display

Enclosures:

Benchtop or 19", 23", 24" rack mountable enclosures

Power:

AC, Dual redundant AC, or DC powered

RF Connectors:

BNC, TNC, SMA, N, etc.

Impedance:

50 Ohm or 75 Ohm

Hub Fan-out Transceiver Test Systems for Radio Testing (6)

A hub fan-out transceiver test systems is constructed as a star matrix with all ports connected through a central hub. The star configuration limits the number of paths in the matrix to be equal to the number of ports. This type of construction allows for radio-to-radio communication testing. The attenuators can be remotely controlled to simulate static or dynamic environments. Block diagrams for each model are listed in the Documents column of the sortable table. With the hub configuration, there is a single programmable attenuators between the port and the hub. Two 4 port example block diagrams are listed below the table. The hub fan-out design is the most basic of JFW's transceiver test systems. It is also the least costly since it uses a minimum number of internal RF components to construct the matrix. By including RF switches into the construction, you may have multiple hubs. Each port will have an RF switch that is used to select between hubs. The isolation of the switches allows the hubs to act as separate networks. Please

contact us

if you do not find a model that meets your requirements. JFW is a customer driven company that does not charge NREs for new models. We strive to deliver test systems that meet your exact requirements so that you do not waste resources for functionality that you do not need.

Ethernet & RS-232 Commands

Click the column headers to sort our online models. For your specific application, please

contact JFW

for assistance or use our

Inquiry Form

. [lt id="83"]

4 Port Limited Fan-out System w/ 1 RF Hub

Below are two diagrams. The left diagram shows how all ports are connected to each other. The right diagram shows the attenuator addressing for each path. Each port has its own individually controlled programmable attenuator. A signal transmitted into port #1 is received at the other ports at the following signal levels: Rx at Port #2 = (Tx into Port #1) - (Attenuator #1) - (loss of Hub) - (Attenuator #2) Rx at Port #3 = (Tx into Port #1) - (Attenuator #1) - (loss of Hub) - (Attenuator #3) Rx at Port #4 = (Tx into Port #1) - (Attenuator #1) - (loss of Hub) - (Attenuator #4) Each programmable attenuator in this example can be varied from 0-127 x 1dB to achieve dynamic RF signal fading between ports. The RF hub is designed with an internal star configuration. This star configuration allows all ports to be simultaneously connected to each other with equal port-to-port loss.

4 Port Limited Fan-out System w/ 2 RF Hubs

The below block diagram shows an example of a 4 port limited fan-out transceiver test system with two RF Hubs. The two RF hubs are used to create two isolated groups of radios. Each port can be connected to either hub by setting the 1P2T RF switches. Once connected to a hub, each programmable attenuator can be varied from 0-127 x 1dB to achieve dynamic RF signal fading between ports.

Capabilities and Options

Custom Models

The models listed in the above table showcase some of our standard transceiver test systems. However, most of JFW's test system business involves custom designed models. JFW does not charge NREs for custom models. We encourage you to email us your specific requirement to

sales@jfwindustries.com

. We will respond with a ROM (rough order of magnitude) quote in 1-2 days.

Remote Commands

JFW has standard remote commands for Ethernet, and RS-232 controlled models. The command syntax is simple and allows easy control of the programmable attenuator settings. In addition to our standard commands, JFW can also provide customer specific commands upon request.

Test Software

JFW provides a GUI test program with all Ethernet and RS-232 controlled test systems. The test software for transceiver test systems has all of the remote commands built in for easy testing. In addition to the remote commands, the GUI test program has additional functionality such as keypress, handover, and indefinite handover. Several of our

sample test programs

are available online.

Options Remote Control:

Ethernet, RS-232

Manual Control:

Keypad with display

Enclosures:

Benchtop or 19", 23", 24" rack mountable enclosures

Power:

AC, Dual redundant AC, or DC powered

RF Connectors:

BNC, TNC, SMA, N, etc.

Impedance:

50 Ohm or 75 Ohm

Limited Fan-out Transceiver Test Systems for Radio Testing (4)

The limited fan-out transceiver test system is constructed as a reduced mesh matrix. A port connects to only X number of its neighboring ports. The number of its neighboring ports can vary depending on the application. By reducing the number of internal paths through the matrix, the size and cost of the test system is reduced. The reduced number of internal paths allows us to offer a greater number of ports. More ports means a greater number of radios to be tested simultaneously. The programmable attenuators can be remotely controlled to simulate static or dynamic environments. In the configuration column of the below table, we use the term LC to describe the number of neighboring ports each port is internally connected. Here are some examples:

16 Port LC8:

16 Ports with each port connected to its 8 neighboring ports

32 Port LC16:

32 Ports with each port connected to its 16 neighboring ports

48 Port LC16:

48 Ports with each port connected to its 16 neighboring ports The reduced mesh is our latest type of test system to be added to the JFW website. If you do not find a model that meets your requirements, please

contact us.

JFW does not charge NREs for new models. We offer quick 1-2 day ROM (rough order of magnitude) quotes for new models. Full quotes typically take 1-2 weeks depending on the size of the test system requested Click the column headers to sort our online models. For your specific application, please

contact JFW

for assistance or use our

Inquiry Form

. [lt id="82"]

Limited Fan-out Mesh Vs. Full Fan-out Mesh

The left block diagram is a 12 Port LC8 design. Each port is connected to its eight neighboring ports. The four upper neighboring ports and the four lower neighboring ports. A 12 Port LC8 design requires 48 programmable attenuators. The right block diagram is a full fan-out 12 port mesh which requires 66 programmable attenuators. The limited fan-out design requires 27.27% fewer programmable attenuators than its full fan-out counterpart. This results in the limited fan-out design costing less and being physically smaller while still having the same number or ports. The reduction of internal components becomes even greater as the number of ports is increased. Below are three examples showing how much a limited fan-out design reduces the number of internal components.

Design Type # of Attenuators

16 Port full fan-out 120 attenuators 16 Port LC8 limited fan-out 64 attenuators (46.66% reduction) 32 Port full fan-out 496 attenuators 32 Port LC16 limited fan-out 256 attenuators (48.38% reduction) 40 Port full fan-out 780 attenuators 40 Port LC16 limited fan-out 320 attenuators (58.97% reduction)

Capabilities and Options

Custom Models

The models listed in the above table are our standard limited fan-out transceiver test systems. JFW does not charge NREs for custom models. We encourage you to email us your specific requirement at

sales@jfwindustries.com

. We will respond with a ROM (rough order of magnitude) quote in 1-2 days.

Remote Commands

JFW has standard remote commands for

Ethernet

and

RS-232

controlled models. The command syntax is simple and allows easy control of the programmable attenuator settings. In addition to our standard commands, JFW can also provide customer specific commands upon request.

Test Software

JFW provides a GUI test program with all Ethernet and RS-232 controlled test systems. The test software for transceiver test systems has all of the remote commands built in for easy testing. In addition to the remote commands, the GUI test program has additional functionality such as keypress, handover, and indefinite handover. Several of our

sample test programs

are available online.

Options Remote Control

: Ethernet, RS-232

Manual Control:

Keypad with display

Enclosures:

Benchtop or 19", 23", 24" rack mountable enclosures

Power:

AC, Dual redundant AC, or DC powered

RF Connectors:

BNC, TNC, SMA, N, etc.

Impedance:

50 Ohm or 75 Ohm