Search Results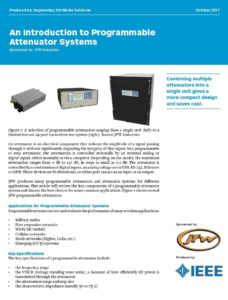 The application note is an introduction to programmable attenuators and their applications.  If you would like to discuss your application with our engineering staff please call (1-317-887-1340) or email.
Applications for Programmable Attenuator Systems
Military radios
First responder networks
Wi-Fi/MU-MIMP
Cellular networks
Mesh networks
IoT and 5G systems
Key Programmable Attenuator Specifications
Frequency range
VSWR
Attenuation range and step size
Impedance
RF input power
More Information
Why use a USB Attenuator?
In RF test labs, programmable attenuators and RF switches are a basic building block of performance testing. Programmable attenuators are used in fading, handover, and rate vs range testing. Among other things, RF switches are used in signal routing, component bypassing and switched filter banks. To fill this need, JFW offers an expansive selection of Programmable Attenuator Assemblies and RF Switch Assemblies in 19″ rack or benchtop enclosures. These boxes typically include Ethernet and RS-232 control. While appropriate for medium to large testing environments, a USB Attenuator or USB RF Switch is often a better solution for smaller test setups. Lower cost and smaller size of the USB device are especially relevant.
More Information