50 Ohm Medium Power Fixed Attenuators (5 to 50 Watts)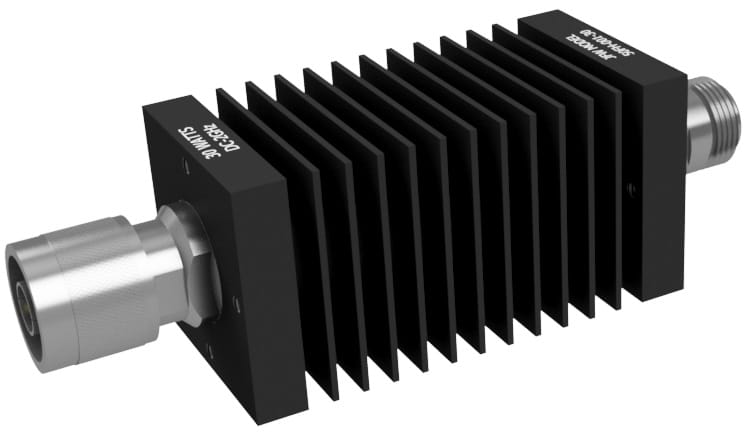 JFW's standard medium power 50 Ohm fixed attenuator models are listed in the table below.  The name JFW has been synonymous with RF attenuators since our inception in 1979.  Our attenuators are used in RF labs, integrated into RF sub systems, and installed into cellular base stations.  We stock a wide selection of fixed attenuators with standard dB values (3, 6, 10, 20, 30dB) and RF connectors (BNC, N, SMA, TNC). We also manufacture fixed attenuators with custom dB values and mixed RF connector combinations.  If you have specific attenuator size, peak power, or mounting requirements, contact our engineering team for help.
Click the column headers to sort. For your specific application, please contact JFW or use our Inquiry Form.
| JFW Model # | Impedance | Frequency Start | Frequency Stop | RF Input Power | Attenuation Values | Heatsink Style | RF Connectors |
| --- | --- | --- | --- | --- | --- | --- | --- |
| 50FHC-XXX-10-6 | 50 Ohms | 0 MHz (DC) | 6000 MHz | 10 Watts | 1-40 dB | Round | 4.1/9.5, 4.3/10, N, SMA, TNC |
| 50FH-XXX-10 | 50 Ohms | 0 MHz (DC) | 2000 MHz | 10 Watts | 1-30 dB | Round | BNC, N, SMA, TNC, 4.1/9.5, 4.3/10, 7/16 |
| 50FH-XXX-30 | 50 Ohms | 0 MHz (DC) | 2000 MHz | 30 Watts | 1-50 dB | Square | BNC, N, SMA, TNC, 4.1/9.5, 4.3/10, 7/16 |
| 50FH-XXX-30/3 | 50 Ohms | 0 MHz (DC) | 3000 MHz | 30 Watts | 1-50 dB | Square | BNC, N, SMA, TNC, 4.1/9.5, 4.3/10, 7/16 |
| 50FH-XXX-5 | 50 Ohms | 0 MHz (DC) | 2000 MHz | 5 Watts | 1-60 dB | Round | BNC, N, SMA, TNC, 4.1/9.5, 4.3/10, 7/16 |
| 50FH-XXX-50 | 50 Ohms | 0 MHz (DC) | 2000 MHz | 50 Watts | 1-50 dB | Square | BNC, N, SMA, TNC, 4.1/9.5, 4.3/10, 7/16 |
| 50FH-XXX-50/3 | 50 Ohms | 0 MHz (DC) | 3000 MHz | 50 Watts | 1-50 dB | Square | BNC, N, SMA, TNC, 4.1/9.5, 4.3/10, 7/16 |
| 50FHC-XXX-10 | 50 Ohms | 0 MHz (DC) | 4000 MHz | 10 Watts | 1-60 dB | Round | BNC, N, RP-TNC, SMA, TNC, 4.1/9.5, 4.3/10, 7/16 |
| 50FHC-XXX-15 | 50 Ohms | 0 MHz (DC) | 4000 MHz | 15 Watts | 1-60 dB | Round | BNC, N, RP-TNC, SMA, TNC, 4.1/9.5, 4.3/10, 7/16 |
| 50FHC-XXX-20 | 50 Ohms | 0 MHz (DC) | 4000 MHz | 20 Watts | 1-60 dB | Round | BNC, N, RP-TNC, SMA, TNC, 4.1/9.5, 4.3/10, 7/16 |
| 50FHC-XXX-25 | 50 Ohms | 0 MHz (DC) | 4000 MHz | 25 Watts | 1-60 dB | Round | BNC, N, RP-TNC, SMA, TNC, 4.1/9.5, 4.3/10, 7/16 |
| 50FHXC-XXX-40 | 50 Ohms | 0 MHz (DC) | 4000 MHz | 40 Watts | 1-60 dB | Round | BNC, N, RP-TNC, SMA, TNC, 4.1/9.5, 4.3/10, 7/16 |
| 50FHXC-XXX-50 | 50 Ohms | 0 MHz (DC) | 4000 MHz | 50 Watts | 1-60 dB | Round | BNC, N, RP-TNC, SMA, TNC, 4.1/9.5, 4.3/10, 7/16 |
| 50FPE-XXX | 50 Ohms | 0 MHz (DC) | 6000 MHz | 5 Watts | 1-60 dB | Round | N, RP-TNC, SMA, TNC |
| 50HF-XXX-10 | 50 Ohms | 0 MHz (DC) | 18000 MHz | 10 Watts | 1-10, 12, 20, 30, 40 dB | Round | N, SMA |
| 50HF-XXX-25/18 | 50 Ohms | 0 MHz (DC) | 18000 MHz | 25 Watts | 3, 6, 10, 20, 30 dB | Square | N, SMA |
| 50HF-XXX-5 | 50 Ohms | 0 MHz (DC) | 18000 MHz | 5 Watts | 0-10, 15, 20, 30 dB | Round | N, SMA |
| 50HF-XXX-50/18 | 50 Ohms | 0 MHz (DC) | 18000 MHz | 50 Watts uni-directional | 3, 6, 10, 20, 30, 40 dB | Square | N, SMA |
| 50FHC-XXX-25-6 | 50 Ohms | 0 MHz (DC) | 6000 MHz | 25 Watts | 1-40 dB | Round | 4.1/9.5, 4.3/10, 7/16, N, SMA, TNC |
| 50FHXC-XXX-50-6 | 50 Ohms | 0 MHz (DC) | 6000 MHz | 50 Watts | 1-40 dB | Round | 4.1/9.5, 4.3/10, 7/16, N, SMA, TNC |
Showing 1–3 of 20 results
50FH-XXX-10 Fixed Attenuator

50 Ohm Medium Power Fixed Attenuators (5 to 50 Watts), Fixed Attenuators

JFW Model #: 50FH-XXX-10
Impedance: 50 Ohms
Frequency Start: 0 MHz (DC)
Frequency Stop: 2000 MHz
RF Input Power: 10 Watts
Attenuation Values: 1-20 dB (DC-2 GHz) 21-30 dB (DC-1 GHz)
Heatsink Style: Round
RF Connectors: BNC, N, SMA, TNC, 4.1/9.5, 4.3/10, 7/16
Documentation: Data Sheet | Drawing

If Connector Type is Other, please specify in REMARKS field of the Request a Quote form.

---

50FH-XXX-30 Fixed Attenuator

50 Ohm Medium Power Fixed Attenuators (5 to 50 Watts), Fixed Attenuators

JFW Model #: 50FH-XXX-30
Impedance: 50 Ohms
Frequency Start: 0 MHz (DC)
Frequency Stop: 2000 MHz
RF Input Power: 30 Watts
Attenuation Values: 1-50 dB
Heatsink Style: Square
RF Connectors: BNC, N, SMA, TNC, 4.1/9.5, 4.3/10, 7/16
Documentation: Data Sheet | Drawing

If Connector Type is Other, please specify in REMARKS field of the Request a Quote form.

---

50FH-XXX-30/3 Fixed Attenuator

50 Ohm Medium Power Fixed Attenuators (5 to 50 Watts), Fixed Attenuators

JFW Model #: 50FH-XXX-30/3
Impedance: 50 Ohms
Frequency Start: 0 MHz (DC)
Frequency Stop: 3000 MHz
RF Input Power: 30 Watts
Attenuation Values: 1-50 dB
Heatsink Style: Square
RF Connectors: BNC, N, SMA, TNC, 4.1/9.5, 4.3/10, 7/16
Documentation: Data Sheet | Drawing

If Connector Type is Other, please specify in REMARKS field of the Request a Quote form.

---