Benchtop Attenuator Assemblies with Manual Lever Controls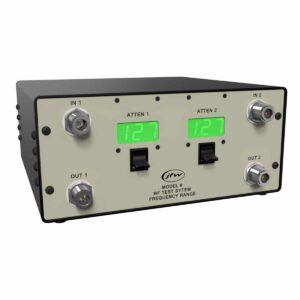 These benchtop attenuator assemblies have lever switches for manual control. Each step attenuator has its own corresponding lever switch and display. The lever switches are momentary so you can manually "tap to step" or "hold to jog" to change the attenuation setting. The displays show the current attenuation setting at all times. If an attenuator is updated remotely, then the display will change accordingly. If you run a remote script, all attenuation changes will be displayed as they are executed.
Remote Control
The manual lever test system models are available with Ethernet/Serial remote control. The remote control features easy to use ASCII formatted remote commands. The step attenuators can be controlled individually (set attenuator command) or as a group (block command, set block command). All test systems with Ethernet/Serial control run out latest generation 3.x.x firmware. The manual for the 3.x.x firmware lists the remote command syntax with examples. We also have sample GUI test programs available that work with models running the 3.x.x firmware.
Custom Models
If you do not find a model on the website that meets your requirements, please use our inquiry form or email our engineering department. We will respond with a quick cost estimate. JFW does not charge NRE fees for new models. A large portion of the RF test systems that we manufacture are per custom requests.
| JFW Model # | Impedance | Configuration | dB Total | dB Step | Frequency Start | Frequency Stop | Control | RF Connectors |
| --- | --- | --- | --- | --- | --- | --- | --- | --- |
| 50BA-001-63 | 50 Ohms | 1 Attenuator (Solid-State) | 63 dB | 1 dB | 200 MHz | 6 GHz | Manual, Ethernet, RS-232 | N, SMA |
| 50BA-001-95 | 50 Ohms | 1 Attenuator (Solid-State) | 95 dB | 1 dB | 200 MHz | 6 GHz | Manual, Ethernet, RS-232 | N, SMA |
| 50BA-002-63 | 50 Ohms | 2 Attenuators (Solid-State) | 63 dB | 1 dB | 200 MHz | 6 GHz | Manual, Ethernet, RS-232 | SMA |
| 50BA-002-95 | 50 Ohms | 2 Attenuators (Solid-State) | 95 dB | 1 dB | 200 MHz | 6 GHz | Manual, Ethernet, RS-232 | N, SMA |
| 50BA-004-63 | 50 Ohms | 1 Attenuator (Solid-State) | 63 dB | 1 dB | 30 MHz | 3 GHz | Manual, Ethernet, RS-232 | N, SMA |
| 50BA-010-127 | 50 Ohms | 2 Attenuators (Solid-State) | 127 dB | 1 dB | 700 MHz | 3 GHz | Manual, Ethernet, RS-232 | N, SMA |
| 50BA-011-63 | 50 Ohms | 4 Attenuators (Solid-State) | 63 dB | 1 dB | 200 MHz | 6 GHz | Manual, Ethernet, RS-232 | SMA |
| 50BA-011-95 | 50 Ohms | 4 Attenuators (Solid-State) | 95 dB | 1 dB | 200 MHz | 6 GHz | Manual, Ethernet, RS-232 | SMA |
| 50BA-012-95 | 50 Ohms | 4 Attenuators (Solid-State) | 95 dB | 1 dB | 30 MHz | 3 GHz | Manual, Ethernet, RS-232 | SMA |
| 50BA-016-63 | 50 Ohms | 3 Attenuators (Solid-State) | 63 dB | 1 dB | 200 MHz | 6 GHz | Manual, Ethernet, RS-232 | SMA |
| 50BA-016-95 | 50 Ohms | 3 Attenuators (Solid-State) | 95 dB | 1 dB | 200 MHz | 6 GHz | Manual, Ethernet, RS-232 | SMA |
| 50BA-017-63.5 | 50 Ohms | 1 Attenuator (Solid-State) | 63.5 dB | 0.5 dB | 30 MHz | 3 GHz | Manual, Ethernet, RS-232 | BNC, N, SMA |
| 50BA-022-31 | 50 Ohms | 1 Attenuator (Solid-State) | 31 dB | 1 dB | 100 MHz | 40 GHz | Manual, Ethernet, RS-232 | 2.92 mm |
| 50BA-023-31 | 50 Ohms | 2 Attenuators (Solid-State) | 31 dB | 1 dB | 100 MHz | 40 GHz | Manual, Ethernet, RS-232 | 2.92 mm |
| 50BA-024-62 | 50 Ohms | 1 Attenuator (Solid-State) | 62 dB | 1 dB | 100 MHz | 40 GHz | Manual, Ethernet, RS-232 | 2.92 mm |
| 50BA-025-62 | 50 Ohms | 2 Attenuators (Solid-State) | 62 dB | 1 dB | 100 MHz | 40 GHz | Manual, Ethernet, RS-232 | 2.92 mm |
| 50BA-030-31 | 50 Ohms | 1 Attenuator (Solid-State) | 31 dB | 1 dB | 100 MHz | 18 GHz | Manual, Ethernet, RS-232 | SMA |
| 50BA-031-31 | 50 Ohms | 2 Attenuators (Solid-State) | 31 dB | 1 dB | 100 MHz | 18 GHz | Manual, Ethernet, RS-232 | SMA |
| 50BA-032-31 | 50 Ohms | 4 Attenuators (Solid-State) | 31 dB | 1 dB | 100 MHz | 18 GHz | Manual, Ethernet, RS-232 | SMA |
Showing 1–3 of 19 results
50BA-001-63 Mini Benchtop Programmable Attenuator Assembly

Attenuator Assemblies, Benchtop Attenuator Assemblies with Manual Lever Controls, Test Systems

JFW Model #: 50BA-001-63
Impedance: 50 Ohms
Configuration: 1 Attenuator (Solid-State)
dB Total: 63 dB
dB Step: 1 dB
Frequency Start: 200 MHz
Frequency Stop: 6 GHz
Manual Control: Momentary Lever Switch
Remote Control: Ethernet, RS-232
RF Connectors: N, SMA
Documentation: Data Sheet | Drawing (N) | Drawing (SMA)

---

50BA-001-95 Mini Benchtop Programmable Attenuator Assembly

Attenuator Assemblies, Benchtop Attenuator Assemblies with Manual Lever Controls, Test Systems

JFW Model #: 50BA-001-95
Impedance: 50 Ohms
Configuration: 1 Attenuator (Solid-State)
dB Total: 95 dB
dB Step: 1 dB
Frequency Start: 200 MHz
Frequency Stop: 6 GHz
Manual Control: Momentary Lever Switch
Remote Control: Ethernet, RS-232
RF Connectors: N, SMA
Documentation: Data Sheet | Drawing (N) | Drawing (SMA)

---

50BA-002-63 Mini Benchtop Programmable Attenuator Assembly

Attenuator Assemblies, Benchtop Attenuator Assemblies with Manual Lever Controls, Test Systems

JFW Model #: 50BA-002-63
Impedance: 50 Ohms
Configuration: 2 Attenuators (Solid-State)
dB Total: 63 dB
dB Step: 1 dB
Frequency Start: 200 MHz
Frequency Stop: 6 GHz
Manual Control: Momentary Lever Switch
Remote Control: Ethernet, RS-232
RF Connectors: SMA
Documentation: Data Sheet | Drawing

---